My FIRST movie!!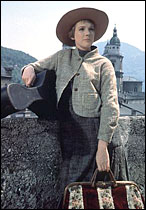 Have seen it a hundred times or more by now....
No, I'm not gonna tell you where I was born, where I grew up and so on. For that I have another homepage, and will soon build a new website. This is about movies, and anything related to it, so if you're not a big moviefan, just browse around quickly. If you ARE, stay with me, and see if there is something we have in common!
Since my father was active as a volunteer in the local firebrigade, we as his family got regulary invited for visits to zoo's, special parties for the kids and other stuff like that. When I was 8 (1970) I remember that we got invited to watch a movie. All exited about my first movie, I was waiting full of expectation in the dark, staring at the screen, set up in the kantine of a factory.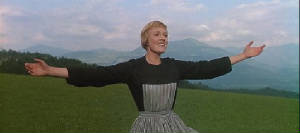 Ever since the first sounds of the music reached my ears, and Julie comes running down the hill singing, I can dream almost every note, sing every song and repeat every spoken word. It remains one of my favorite movies. I have watched it almost breathless, and am glad that I own it on DVD now, although I hoped for more extra's.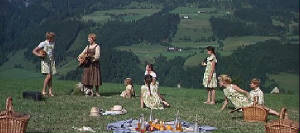 FIRST CINEMA EXPERIENCE.......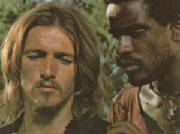 Jesus Christ Superstar
When Jesus Christ Superstar came to the local cinema, I wanted to visit it, but going to the cinema was a 'sin' so I had to come up with a good plann....
That sunday I visited church in the morning and like a little saint told my parents I would go again in the evening. The service and the movie were at exact the same time....
So JCS was the first movie I saw in a real -but shabby- cinema. And I happened to leave the theater the same time people left church opposite the cinema!!!
I never knew if my mother later heard from other people they saw me. But it was the only time ever my mother asked me to tell about the cermon. Which was no problem, since the film was related to what was told in church......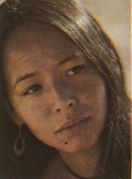 Yvonne Elliman as Maria Magdalena
DON'T TELL ME I DIDN'T WARN YOU!!!

Never to forget

When you wanna watch a movie, but you are not prepared, it might become a night you never forget... The local cinema presented Cannibal Holocaust. Maybe it made me curious about cannibals, I don't know, I had to see this movie. Well, it was surely unforgettable. Not only was it the most gore movie I ever saw, but the BAD guys, of my town left the building within about 10-20 minutes, throwing up. i made it to the end, but vowed to myself I would never ever watch a movie like this again!