The Lord of the Rings Trilogy All 3 in the Top 10
My top 100 of favorite movies is based on the votes I gave these movies at imdb.com. They are combined with the imdb votes. The list will be updated once a year. The complete new list will be available on April 10th.
In the list movies and shorts, Tv movies and movies made for video. Television series or mini-series are not included. My top 100 is actually a Top 250! So you might miss certain classics or other movies that you would have in your top 100.
If you are interested in ALL titles, let me know. But ONLY if you send me also your top 100/150/250 ! Send to tiggerhans@yahoo.com
ALL TIME TOP 100
01 01 Himalaya - l'enfance d'un chef 1999
02 09 The Fifth Element 1997
03 02 LOR: The Fellowship of the Ring 2001
04 10 LOR: The Return of the King 2003
05 08 Moulin Rouge 2001
06 23 Kabhi Khushi Kabhie Gham 2001
07 NW V for Vendetta 2006
08 05 Shakespeare in Love 1998
09 15 Dangerous Liasions 1988
10 12 The Others 2001
11 03 LOR: The Two Towers 2002
12 14 The Sound of Music 1965
13 NW The Passion of the Christ 2004
14 04 The Adventures of Robin Hood 1938
15 NW The Chronicles of Narnia: The Voyage of the Dawn Trader 2010
16 Dumbo '41
17 Fanfare '58
18 Seven Years in Tibet '97
19 The Pillow Book '96
20 Kundun '97
21 Lili Marleen '81
22 Satyricon '69
23 Kabhi Khushi Kabhie Gham '03
24 Elizabeth '98
25 Van de Koele meren des doods '82
26 The Wizard of Oz '39
27 Battle of the Century '27
28 Amelie '01
29 Sen te Chihiro no Kamikakushi '01
30 The Brave Little Tailor '38
31 For the Birds '00
32 Beauty and the Beast '91
33 My Fair Lady '64
34 Snow White & Seven Dwarfs '34
35 Ba Wang Bie Ji '93
36 The Hours '02
37 Captain Blood '35
38 Far From Heaven '02
39 Saimt El Qusur '94
40 Anata-ga suki desu, dai suki desu '94
41 Samsara '01
42 Willy Wonka & The Chocolate Factory '71
43 A Beautiful Thing '96
44 Fantasia 2000 '99
45 The King and I '56
46 The Prince and the Pauper '37
47 Sa Tree Lex '00
48 Cheung Gwong Tsa Sit '97
49 Aimee & Jaguar '99
50 Babes in Toyland '34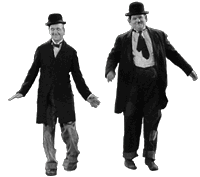 Laurel & Hardy dancing on numbers 27, 50 & 98
51 Maurice '87
52 The Madness of King George '94
53 Mulan '98
54 Jing ke ci qin Wang '99
55 Muriel's Wedding '94
56 Fire Chief '40
57 Nagisa no Shindobaddo '95
58 Torch Song Trilogy '88
59 Grease '78
60 Ladyhawke '85
61 Exodus '60
62 Rocky Horror Pict. Show '75
63 Clue '85
64 Farinelli: il castrato '94
65 Jesus Chirst Superstar '73
66 E no naka no boku no mura '96
67 Sissi '55
68 Thoroughly Modern Millie '67
69 Vroeger kon je lachen '83
70 The Human Stain '03
71 My Best Friend's Wedding '97
72 Dune '84
73 Dong Gong Xi Gong '96
74 In & Out '97
75 The Black Cauldron '85
76 Hatachi no Binetsu '93
77 A Chorus Line '85
78 Danjeogbyeonsu '00
79 Wat zien ik? '71
80 Caligula '79
81 Oh! Calcutta! '72
82 Charleys Tante '63
83 Can't Stop the Music '80
84 The Hiding Place '75
85 Abba : The Movie '77
86 Star Wars '77
87 X 2 '03
88 Donalds Snow Fight '42
89 Some Like it Hot '59
90 Amadeus '84
91 X-Men '00
92 Finding Nemo '03
93 Witness for the Prosecution '57
94 Sixth Sense '99
95 la Strada '54
96 Da Hong Deng Long Gao Gao Gua '91
97 Monsters Inc. '01
98 The Music Box '32
99 Au revoir les Enfants '87
100 Der Blaue Engel '30