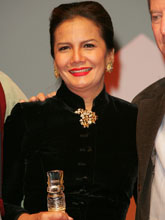 Christine Hakim, Grande Dame of Indonesian Cinema
Since 2001 I am in Indonesia, and though I don't love Indonesian cinema that much, I think I should at least give some space to Indonesian cinema.
On this site, all the Indonesian movies I have watched since 2001 (also including the few I watched before I came to Asia).
Under each poster, you can see my rating.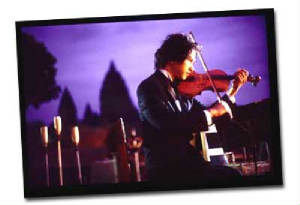 NICOLAS SAPUTRA IN VIOLA TAK BERDAWAI (2003)
Acting in Indonesia
Indonesian actors and actresses don't seem to take themselves and their work very seriously. I mean, they will do almost anything, even if it means they have to play in some stupid silly Cinetron (Soap), bad commercials or movieflicks.
Besides that they make so many bad movies that anyone who is willing to pay or has connections can enter a movie as new talent without actually having talent.
Sometimes movies do have a great story, but the terrible way people act, or the terrible lighting and other technical aspects, make that the movie looses the battle for an international audience. Luckely, especially the Sundanese schoolkids don't care. They go en masse to the bad movies, and ignore the good ones.
But about actors.... Ofcourse there are a few great talents, the one with the best credits outside Indonesia is ofcourse the Grande Dame, Indonesian Diva Christine Hakim.
But there is young talent as well that deserves the spotlight. They are not all a bunch of wanna-be rich and famous kids!
ARISAN ! (2003)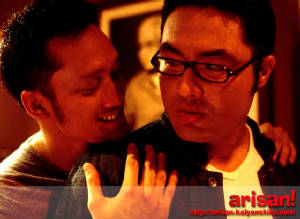 Tora Sudiro & Surya Saputra as gay couple
Tora Sudiro & Surya Saputra
Tora and Surya became nationally and internationally known by their work for Arisan, a movie about two gays who decide to come out. While Sakti (Tora) is struggling, and even keeps the secret from his best friend Meimei, Nino (Surya) is way ahead. In this movie it is not only about coming out, cause we see all their straight friends struggle as much as them with issues in their life.
What makes this movie so special is that we have here a large group of fantastic actors and actresses from Indonesia, all together in one movie.
Tora and Surya got the spotlight, which was not to bad for their carreer, but also Rachel Maryiam, Aida Nurmala, Cut Mini Theo and the rest of the cast deserve credits for this movie. While Indonesian cinema has picked up ever since the succes of "Ada Apa Dengan Cinta" and "Arisan", and tens of movies enter the cinema, most of them are so bad when it comes to acting, sound, color, script, that they deserve a place in your "worst movies of all time list".
But there are a few gems, and there are definately a number of actors, directors and other professionals who do a great job.
Two thumbs up for Tora and Surya.
Arisan (2003)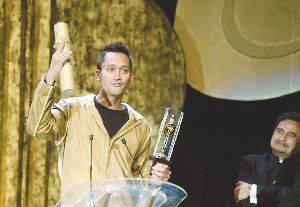 Best Actor Award at JIFFEST '04 for Tora
Awards won for Arisan!
Indonesia (1): JIFFEST Best Actor (Tora Sudiro), Best Movie (Arisan!), Best Supporting Actor (Surya Saputra), Best Supporting Actress (Cut Mini Theo), Best Editing (Dewi S Alibasah)
Indonesia (2): MTV Indonesia Movie Awards Best Movie (arisan!), Best Director (Nia diNata), Best Supporting Actor (Surya Saputra)
The Netherlands: Cinemasia Filfestival Best Movie (Arisan!), Most Popular Movie (Arisan)
USA: Asian American International Film Festival New York :Annual Emerging Director Award (Nia di Nata)