Glenn Close in 'Dangerous Liaisons'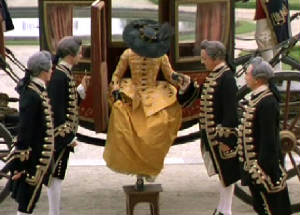 Costume by James Acheson
Movies like Shakespeare in Love, Dangerous Liaisons, The Fifth Elementh or the Lord of the Ring Trilogy can't do without them. But even for The Hours or Frida you need someone to design costumes that come close to the origins of the caracters and the time the movie plays.
Cate Blanchett in Elizabeth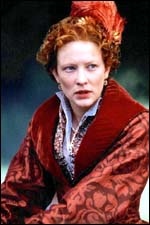 Design by Alexandra Byrne
At the Oscars there is an Oscar for Costume Design. A minute or less in the spotlight and after that everyone forgets about you.
The movie, the director, the actor or actress, they get their hours of fame, they are mentioned in all newspapers, and are mentioned on the television news. That their movie would never have been a succes without the right make-up, camera work, editing, costumes, special effects : they know. The media however hardly mentioned at all.
James Acheson made great costumes and won an Oscar for Dangerous Liaisons. Ngila Dickson and Richard Taylor brought Tolkiens tale to life and made us dream of Elves as they pictured it. An OScar for their work finally in 2003. And Sandy Powell won hers for Shakespeare in Love.
The Indian Actress Kajol in KKKG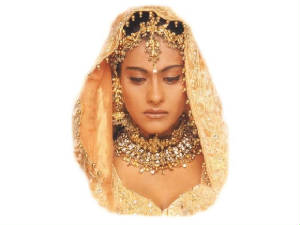 Design by Manish Malhotra
Costume dramas and spectacle movies like Ben Hur are what costume designers need to do anything extravagant.
Time pieces like "The Hours' need exact work, and when it comes to Bollywood, 'exotic' is the word. Movies like Devdas and KKKG bring us costumes with a rich use of jewelry, exotic colors, silk and flowers. It is like living a fairytale and makes you forget the dull cloths that many westerners wear. Even the men are worth lookng at. No dull grey 2 piece costumes, but colorfull kaftans, tulbands and alike.
With every specific movie comes a question : how did they dress in the middle ages, do we have pictures of Mozart to make Tom look like him in "Amadeus, how do we make a priest look like a priest of the future for Fifth Element, what is the traditional weddingdress in Kashmir, or how does an elf look like?
What does an elf look like?
design by Ngila Dickson and Richard Tayor
I think it is part of show and glitter, but also a little bit of daydreaming. Being rich is not within reach for most of us. By watching movies like Shakespeare n Love, Kundun, and other costume dramas we can dream a little bit. About far away countries, different times, about history. We would have loved to live in this or that time, this or that country. We are bored with now-adays fashion, with the same blue jeans day by day.
Maybe that's why even the jury at filmfestivals mostly goes for such design. Even at the Oscars, the award mostly goes to big productions.
I love Science Fiction/Fantasy, Animation, Asian cinema, Costume dramas. And that's where the costumes are!
When I watch the combination of costume design, use of colors and make-up in a film like Hero, I watch almost breathless!
And what about the costumes for the guests at the performance of the Diva in Fifth Elementh!? WOW!
Just look at the pictures, and I know, you will agree!