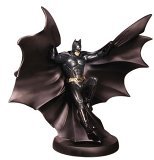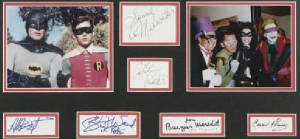 Signatures from an early batman and Robin serie
When you are a real fan of something, or someone, you try to get as much information about that person as possible.

If it is about a singer, you try to get all his/her CD's, old records, maybe concert programs and tickets.

That is the same for movie fans, and the last years some movies have caused a wave of memorabilia. Not that everything is so nice, or of good quality. Nevertheless building up a collection of, lets say, everything related to Batman, can be fun, and doesn't always have to be expensive. Fleemarkets, garage sales and so, help you to keep the cost low, and if you have two of the same items you can exchange with others.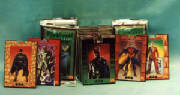 MacDonalds Batman Tradingcards
With just a little bit of money you can easily start a collection. Sometimes you can get collectors items with a meal, or with a certain product you buy.
Your movie ticket is ofcourse also part of your collection! At conventions you can buy old comic books, or other smaller items like postcards, pins, buttons, bookmarks, keyrings.
If you have a job, or if you are still going to school but have a part time job on saturdays, make sure you save some money to buy new things for your collection. By saving for a while you can get something that normally might be to expensive to buy. Like a sculpture, a miniature batmobil, or a signed autograph.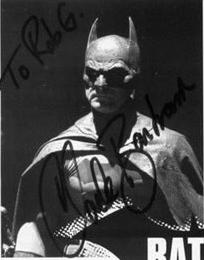 The extra ordinary Batman, Clark Bartram