ACTRESSES
1-1. Nicole Kidman (*27-06-'67) got the attention of the audiences with Far and Away & Portrait of a Lady. I actually discovered her in Moulin Rouge, and after that started to watch her old movies and all her new projects. The Hours, The Others, Moulin Rouge, Dogville, Cold Mountain, The Human Stain are one-by-one masterpieces of the talented Nicole. She is daring in her choices, proven Bewitched and Fur.
Born in the USA, her parents moved back to Australia, where the family originally came from, and thanks to that, Nicole has become the best EXPORT product of Australia ever! Nicole is still on number one for the second year!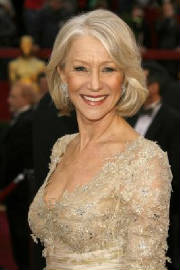 2-2. Helen Mirren, grand lady (*26-07-'45) grand actress. She has such a great style! Maybe it is typical Brittish, I don't know. In general I prefer these 'Brittons' above the Americans. And that includes Brittish comedies and drama's. Anyway, Helen has proven her talent ever since she stepped on stage, and found her way to television and the white screen. She impressed many with her role in Prime Suspect as DCI Jane. But also with her roles in The Madness of King George and Gosford Park. She received the title Dame from Her Majesty the Queen of England. And finally, she received her well deserved Oscar, for the Queen. For the second year on number 2!
3-8. Dame Julie Andrews (*01-10-'35) hardly needs any introduction. This multitalented star conquered the hearts of the world audience with her roles in Mary Poppins, the Sound of Music, and Thoroughly Modern Milly. Her voice is loved by millions, and she is the darling of many movie lovers. The Sound of Music was the first movie I ever saw with my parents at a party of the local fire brigade. I have seen it a hundred of times ever since, and still not tired of watching it. But even though she has reached the age of the strong, she is still working, sometimes doing voice-overs for animated features, sometimes acting like in the Princess Diaries. Up 5 places.
4-6. Dame Judi Dench (*09-12-'34) IS another Grande Dame of the white screen. When she enters the scene, you're silent, and just follow every move she makes. Her brilliant performances in Iris, Shakespeare in Love, can be short or long, but they are of extreme high standards. Dignity, style, class, knowledge, the ultimate performer. But I prefer her most in Shakespeare, or at least in such grandeuse costumes. One of her trademarks has become her role as M in James Bond. Up two places this year.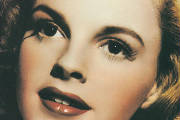 5-3. Judy Garland (10-06-1922/22-06-1969)... Such a talented actress, such a difficult life. I can imagine that it isn't everything to be a 'star'. Not to mention today with all the paparazzi, all the lies and gossip. Am glad that I am not famous...
Eternaly conected with the Wizard of Oz but also with Meet Me in St.Louis. A Star is Born, Easter Parade and Judgement at Nuremberg are highly apreceated movies. A life to short.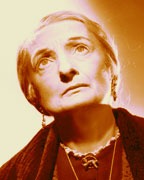 6-21. Una O'Connor. (23-10-1880/4-2-1959) If the name doesn't ring a bell right away, I think it does when I say "The Adventures of Robin Hood" in which she played Bess. Not everyone is charmed by her acting, but I love her because I think she is one of the best character actresses. She had something mysterious, and it made her the perfect one to play in the Bride of Frankenstein. Up 15 places.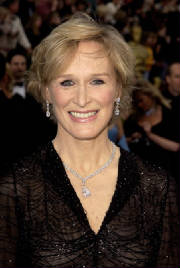 7-10. Glenn Close (*19-03-'47). I will Never Ever forget the moment at the end of Dangerous Liaisons where she tries to hold her head up high, but almost faint. Her evil deads finally have reached the ears of society and her own mind, and the result is terrible. I was so impressed, so moved also by this great ability to act that way, that I had to wait a while to undergo such emotions again and watch the movie for a second time. When people who do their work, whatever they do, with such creatvity, such talent they definately deserve an Oscar. Well, she got a nomination at least for it, but should have gotten the statue. Beside drama, I like her performance in 101 Dalmatians as well as in The Stepford Wives. One of the more recent memorable appearances was in The Chumscrubber. Up 3 places.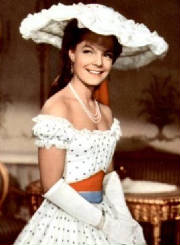 8-38. Romy Schneider (23-9-1938/29-5-1982) Sissi is the name that will always be connected with Romy Schneider. The trilogy kept millions of people breathless while watching television or cinema. And though she did many other great movies, including Les Choses de la vie,Plein Soleil, Ludwig and Victoria in Dover, she has always been the Empress of cinema.
Her life was filled with tragedy, especially inthe last years when she lost her dearly beloved son. But she is always in my memory, and should have been in my top 10 last year. Well, it's never to late. A place in my top 10, (up 28 places) cause you deserve it Romy.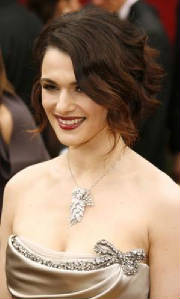 9-New. Rachel Weisz (7-3-1971) Another actress from England who has done well the recent years. The first time I noticed Rachel was when I watched The Mummy. Not yet impressed, but then came Enemy at the Gates, About a boy, Runaway Jury, The Constant Gardener, and even just her voice in Eragon. She is new on my list, cause she have won my respect for all her work. Welcome to the top 10!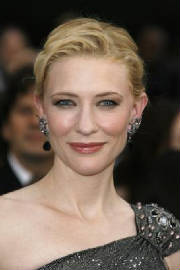 10-14. Cate Blanchett (14-5-1969) It was Cate or it was Bette Davis who would enter the top 10. It was Cate who made it, mainly because of her recent Oscar nomination for Notes on a Scandal. Not fair, I know, Bette isn't making any movies anymore... she passed away in 1989.
But Cate has also proven her qualities, in Elizabeth, An Ideal Husband, The Talented mr. Ripley, The Lord of the Rings, Heaven, Bable and The Good German. 4 places up for Cate, and I think she will move on this year to get even higher in the top!