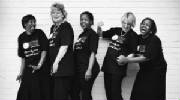 Rough Aunties
Very much in doubt... if it depended on me, both Burma VJ and Rough Aunties had received an award. Rough Aunties shows a number of South-African women and men, trying to help victims of sexual abuse, young and old.
While the viewer is busy watching the women work hard to help their victims, and use all kind of methods especially to help children communicate, we are confronted with the fact that the women themselves are struck with desaster in their own private lives, while they still continue in their work.
It brings these women close to your home, wanting to hug them, and encourage them to go on. Life is hard, the world is hard, and we still need people with a heart full of warmth.
What I admire in the documentary as being a documentary, the filmmaker lets us share in the private lives of these women, without asking for judgement, emotions, sympathy. Just makes sure that we notice the commitment shown here, that, no matter what life brings them personally, the next moment they are there again for the victims who need them.
I think that is the power. It shows, people who help best are often the people who have gone through much of it themselves. Who know that as much as you need them, they also need you.
Make sure you visit the website, and see if you can do something to help THEM.