Aishwarya in Devdas
Is it magic? I don't know, but that Bollywood is actually still growing is obvious. In countries like the Netherlands, germany, France, The Middle East and Africa they are suddenly watching Bollywood Block Busters...
And since they keep making more and more, we don't have to worry that we won't be entertained the coming years...
I must be honest, much of what they make in Bollywood can be flushed down the toilet. It is just like this : violence, blood, hospital, heavy thunderstorm or rain, and more than one plot.
Forget about that. Asia has en-masse decided to make horror movies since Japan was doing so well. So from Thailand to Indonesia, Philippines to India, they are making horror movies...and most of them are awful.
So then what am I watching when I say that I like Bollywood...?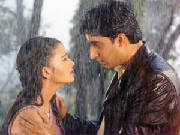 Kuch Naa Kaho - No Bollywood Block Buster without a thunderstorm
Bollywood in the cinema, well, in the Netherlands it began in the late 90ies. Watching a movie from India was even more expensive than going to the Hollywood Block Buster, and most people who watched were people from India who decided in those years to try to start some business in our country.
It was not untill I came to Indonesia that I actually watched my first Bollywood movie, and it was not a bad one... it was actually I big hit everywhere in Asia. Kabhi Khushi Kabhie Gham was so atractive, so intense, and above all musically great that I got hooked imedeately and had to watch it a couple of times. Mostly inviting friends to watch me as an excuse to watch again....
I must be honest, I didn't like Shahrukh Khan, and I still don't. he is just like Leonardo di Caprio. He may have a nice babyface, but when it comes to acting he can't show emotions. He can't cry, or look sad. Just always that smile.... But he is lucky, cause he is often working together with the best of the actors available in India. And the best scripts are often offered to him.
The movies thus that I like most, are those with big ballets, even if they dance a bit redicoulous. I love those glittering costumes, often with bright colors. Although you wonder if really everyone there in India lives in those big palaces you get to see in those hits from India....
So, the best ingredients for a hit in India are : forbidden relationships, love, generation conflicts, heavy thunderstorms, a hospital, and a happy ending. oh, and don't forget, at least 2 or 3 different plots. So if you think that after one and a half hour or even two hours the movie is coming to an end, better prepare cause they start all over again, and finally you will be in the cinema for 3 hours or more...!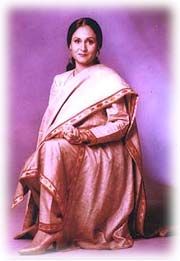 Jaya Bachchan - The Grande Dame of Indian Cinema
Young actors and actrecces seem to be the 'face' of Bollywood. Guys with athletic bodies rather than brains, beauty queens and miss india all play their part in Bollywood.
However, most of them can't act, and in my opinion it is about time they ask those who sing the songs for the movies actually should JOIN the cast instead of letting others mime their songs.
The 'old faces' of Bollywood however still do well, and I think often even better than their younger collegues. Jaya Bachchan is the Grande Dame of Indian cinema. with many titles on her resume, and still playing with as much pleasure as before. You can compare her to Judy Dench and Katherine Hepburn.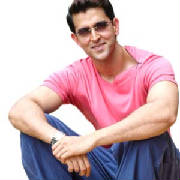 Hrithik Roshan
Hrithik Roshan played beside Khan in KKKG. But after that he found his own way. He not only acted, he gave advise to the directors about where to film, who to ask, how to promote Bollywood outside Asia, and it worked.
Europe, via England and the Netherlands where soon hooked on Indian movies, and other parts of Europe followed soon.
In the meantime Africa and Middle East have discovered Indian movies too. Part of it's succes it the fact that these movies are sensual but never vulgar, there is never a real kiss, no sex, but enough eroticism and therefore has no problem to pass the sensors in Indonesia or Arab countries.
Even some of the youth are bored and fedd up with Hollywood style movies. To much sex, to often faul language. But with the new generations easily getting bored, switching almost monthly from one mobile phone to another, the question remains how long Bollywood will enjoy it's succes of today...